renting with sb.
hello my lovely customers and welcome to renting with sb's official website.
enjoy browsing through the many rental options available for your next event.
i hope your experience with rwsb is nothing but effortless and memorable.
thanks always,
SB X
how it works:
BROWSE | look through over 290+ rental options and sizes from 6-16 to find the perfect one for your next event.
SELECT DATES | choose the date you are wearing the rental. you can book as far in advance as you like, or as close to 3 days before your event. you'll then be sent email with either pick up or postage details with plenty of time before your event.
CHECKOUT | fill in your correct details at checkout to make sure you are up to date with how your order is tracking.
Testimonials
Thanks so much for always being so helpful! It makes renting 10000x easier when you know the face behind the page really cares, so thanks heaps!

Miranda
Just wanted to say thank you so much, your website and everything makes you stand out above the rest of the rental gals around! Cant wait to rent off you again xx

Loren
Thank you so much, I absolutely loved the Kookai Dress - thanks for renting it to me it was perfect & a stress free experience.

Mikayla
Hey Storm, thanks so much for the rental it was perfect for my event and I felt amazing in it x

Rhi
Hands down the best I've ever felt!!!! Got so many compliments, thank you so much!

Thirza
Thanks for the most amazing dress I've ever worn, I want to rent it again and again and again!! XX

Melissa
Hay babe thank you for the rental the dress was beautiful <3

Arena T
Once again thanks so much for the rental! Absolutely loved it, fitted perfectly x

Kendall F
Best service i've ever had from a rental company. Thank you so much xxx

Megan B
Testimonials
Thanks so much! I have just got the email now, your pick-up system is amazing - so easy! X

Caitlan J
Thank you again for providing me with to wear I cant WAIT to wear it. X

Nyesha H
Thank you so much for the dress I rented a couple months ago! It was beautiful, and you make the whole process of getting beautiful outfits so easy! Will be renting again for my birthday in a couple weeks! <3

Kendyl F
Thank you so much for letting me borrow such a beautiful garment!! I absolutely LOVED it x

Lily S
Wanted to say a massive thanks for being so helpful and getting it to me early! Was a lovely dress and I'm excited to rent again from you in the future xx

Sophie St C
I absolutely loved the Blue Ruby Ima Set that I rented in the weekend! Thank you so much for the great service & communication! Will definitely be back xx

Taylor R A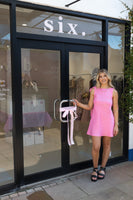 RWSB STORE OPENING 🎀
RWSB has just opened her very own store located in Casabella Lane Hamilton Central!
Walk in, browse, and try on RWSB's full collection in store.
Store Hours can be found here.
Cant wait to see you all in this new and exciting space!
SB X